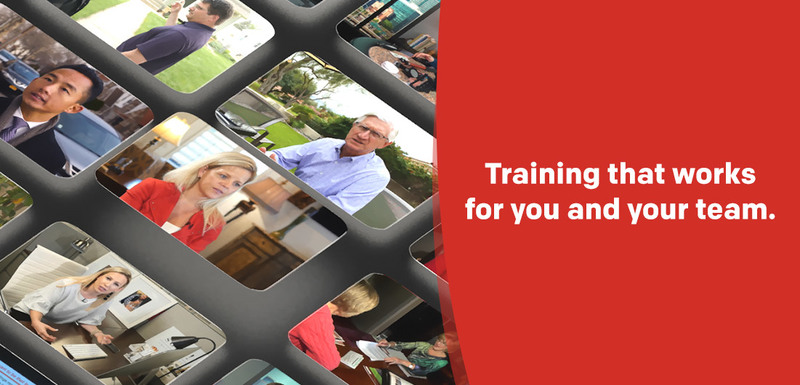 What is David Knox Real Estate Training?
It's an online video real estate training system, which provides the tools and content that real estate offices need to improve their skills and business, led by the expertise and experience of David Knox. (LEARN MORE ABOUT DAVID). By subscribing, you'll get access to hundreds of training videos covering all aspects of the real estate business, downloadable support materials including outlines, dialogs and checklists, and feature sets that will give your agents a clear path to success.

Video Topics
Our videos cover the entire breadth of residential real estate, from building your business and prospecting all the way through to closing for the purchase. New agents, rising stars and top producers will all find valuable information. We even have a series of leadership training videos that will make you a better leader.
With new videos every month, our content is always reflecting the changing market and providing current best practices.

Support Materials
We offer a wide variety of relevant downloadable support materials accompanying the videos. Scripts with useful dialog, video outlines recapping the major info, forms and checklists, customizable listing presentation documents, and more. It's all there to help your agents.

Action Plans
This powerful feature gives your agents a clear training path to follow and allows you to monitor their progress to hold them accountable. Each plan includes videos, tasks, and actions, and managers will receive regular progress reports. Use one of our templates or customize your own plan.

Mobile App
You don't only have to access our training on your computer, you can also take it with you using the Knox Training mobile app, available on the App Store and Google Play. It provides full access to the entire video library and enrolled Action Plans. You can even play the videos with "Audio Only," so you can still learn without using up your cellular data on the go.

Contributors
In addition to David Knox's expertise, agents from across the country share their tips and practices as our team flies out and captures them in actual transactions on location. Nationally recognized speakers have graciously come into our studio to share their presentations