This training helps your agents recapture their enthusiasm to prospect and create transactions in this challenging market…without breaking your budget. It's a resource for your managers to help them improve productivity and recruit more agents.

No training? No solutions?
Each month you invest in occupancy, utilities and technology; ongoing expenses that won't create more revenue for your business. What are you doing for your most important asset, the agents, who have a direct correlation with your bottom line profits?
"You can't cut your way to profitability." At some point you must re-invest in your agents...they need skills training now more than ever.
(By the way, while you're reading this, one or more of your agents is sitting quietly avoiding a lead follow-up, ignoring a prospecting call or overpricing a listing. So you may already be "paying" for this training in lost sales, missed leads, and/or customer alienation.)


Consistency
Building momentum and synergy requires consistency. Often, by the time your message gets passed through the chain of leadership to the agent population it's unrecognizable. When you integrate this online training into your business practice, everyone on your teams pulls in the same direction.

Online, On Demand, 24/7
Our training subscription provides easy, immediate access so agents can get training when they're ready for it! New agents can access it on their schedule while still at their current job or during down time at an open house.
Experienced agents can get a quick refresher on overcoming objections or setting accurate pricing right before an appointment. All parties can practice and role-play at an office meeting or group coaching session.
Just log on and click "play" anywhere, anytime…on any schedule. Much easier than planning a meeting, finding a venue and waiting for attendees to arrive.

Room and Bored?
Not any more! Gone are the days of agents sitting in a room yawning or watching the clock! As you facilitate group training-sessions, you'll hear acknowledgements such as, "Wow, I can see myself doing that!"
David has long been recognized as a presenter who can bring fun and humor to training…while delivering exactly the message your agents need to hear.

Take a load off
Ahhh, no more meetings to write. No more lesson plans to create. This takes the burden off you or your managers to come up with new content for each sales meeting. Let the managers manage and the trainers train; we're trainers!
A manager said to me: "For office meetings, it's a wonderful thing to have someone else talk to my people!"
And while we're talking about it, why, with all that's going on in this market, would you want to take the time to design your own training curriculum? David has spent 30 years writing full company training programs, CRS courses, seminars, videos and sales meetings. You have access to a wealth of knowledge and expertise…ALL of it.

Can I get a copy of that?
Yes, your agents can get a copy of that cool handout. In fact, they can have copies of everything in the site: seminar outlines, great dialogues, charts, forms, worksheets, checklists, pre-listing forms, articles, and more!
Our members consider these to be a valuable feature of this training.

Don't tell me, SHOW me
These training videos SHOW the particular sales skill in practice with role-play demonstrations by David Knox…and that is a major difference between this and other training.
What's really rare is the opportunity to see real agents in live transactions recorded on location with their customer. NO other training has this depth of realistic demonstration.

Reach out, far out
Whether you have offices all over the place or "mobile" agents that you haven't seen in weeks, this training site makes it accessible to everyone. There are no more excuses for not getting quality education and skill set training.
Think about how nice it would be to no longer have to deal with driving, parking, coffee, AV costs, room rental, speaker fee, travel expense, lesson plan, preparation, etc.
Repetition increases retention. Repetition increases retention. Your agents may repeat the sessions numerous times whenever they choose. Watch it once to learn the skill, try it out for real, then repeat the video to confirm.

Mobile app
With our mobile app, agents can learn on the go. Go to iTunes and download "knox training."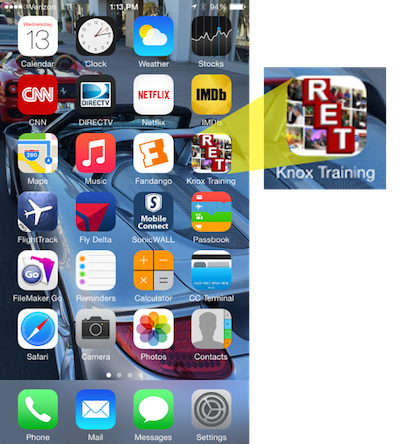 What have you done for me LATELY?
In addition to the rock solid fundamentals agents need, they also want content that was created today! So we upload new video content every month. Most of our Knox First Tuesday videos are taped the week before their release. The only thing more immediate is doing it live. (And we're working on that!)

How will I know if they're watching?
You've heard the saying, "Half the money I spend on advertising is wasted; the trouble is I don't know which half." (- John Wanamaker, US department store merchant)
Well, if you could get just half your agents back to training would it be worth it? In our system, you'll know which half is watching because you'll be able to track the views, searches and downloads, by date and time.
That information could be of value when deciding who should be on your team. (We've got some suggestions for what to do with the other half.)

Oh, another thing…
You don't want to make this investment and miss out on an extra bonus. You can use this to recruit new agents. We provide a Recruiting Page that you can frame in your website that showcases this online training. The first of the six videos is David extolling the virtues of the company that hosts these videos.
Check it out at: http://www.realestatetrainingbydavidknox.com/showcase

Who is this guy?
David Knox began selling real estate then managed a branch office. Soon after that he created a four-week training program for a large independent company in Minneapolis named Burnet Realty. Afterwards, it was purchased by Merrill Lynch Realty Associates. He was named National Training Director, which led him to create the training program used by 33 operating units nationwide.
As a Certified Residential Specialist (CRS) instructor for the National Association of Realtors® (NAR), David became Courses Chairman and Faculty Chairman. In those positions he wrote the courses and outlines for RS201, RS202 and RS203…outlines that are still used today.
In 1987 he founded David Knox Productions, Inc. and has been writing seminars and video training programs. He is also known for his line of consumer videos including "Pricing Your Home to Sell."

What does it cost?
We wanted the cost to be reasonable and fair. To be reasonable, the price per agent is only a few dollars per month.
To be fair, we needed an objective criteria, so we priced the service by the number of agents in a company, not by how many you think will actually log in.
We know that not all of your agents will use this service and expect individual logins to be in the 40-50% range. But when you use these videos in group meetings, it will bring your viewership up to the full amount who attend.
You all have a bottom quartile with limited participation in daily activities and business. We suggest that your managers show the "Getting Re-Started" curriculum to this group for 30-45 days, then decide whether it's worth it to keep those agents or not.
To present this training in its entirety, by a live presenter, would cost at least one annual salary of a top training professional. To recreate them in video form would cost millions of dollars. (It did.) But now, for about the cost of mailing a postcard, you can give access to each agent in your company.

What it cost to deliver
Capital costs. More than $3 million has been invested so far in the research, writing, talent fees, location recording, studio shoots, document rights, editing and post-production.
Delivery costs. We spend more than $50,000 a month for our studio, editing suites, computers, employees, video hosting services, encoding services, online delivery & management, bandwidth & hosting, programmers and technical support.

It's not in our budget.
We realize that this is not an impulse buy, and given the past economy, we're all watching our expenses. But you NEED a training budget. You MAKE a budget for this. It is a month-to-month commitment and if you are not happy with the product, you may cancel any time after the second month. We shutter at how much money you lose by having untrained agents out in the public.
One third of the content will get your new agents up and running, and two-thirds of it will meet the challenges of your experienced agents; those who need to refine what they once learned.

I teach your agents to CLOSE, so…
Here's my close using the N-B-A (Need-Benefit-Ask) method that I teach: True growth productivity rests in your ability to create revenue…and you're agents haven't needed skills to do this in the past (And now they do).
This online training option is an easy, reasonably priced way to deliver quality training to get your agents back to business.
So call now, 800.822.4221, with your company credit card. Within a few minutes we'll open your account and soon after we'll help you upload your management team so they can be first to check it out.